David Brown PLC
David Brown PLC is an engineering based company specialising in mechanical power transmission. Mr. David Brown commenced trading as a general pattern maker in 1860, mostly making patterns for cast gears. 140 years later Sir David Brown, the third generation to run the family business, retired from a company with factories in Britain, America, Australia, South Africa, Argentina and Russia. Under commercial management David Brown Ltd has continued to prosper.
History of David Brown
1898 – 1910
In 1898 David Brown began to manufacture machine cut gears and in 1902 they moved to the current site in Huddersfield at Park Works which remains the company's Engineering Headquarters. David Brown died in 1903 leaving two sons to carry on. Frank and Percy Brown expanded the scope of the business, producing self-contained worm gear units complete with bearings and shafts for industrial applications, and moving into the motor trade, again supplying gearboxes and drive components. In 1908 the 19.9hp David Brown 'Valveless' cars was launched, and about 700 were made between 1908 and 1915.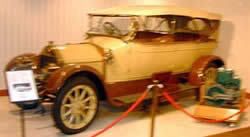 1910 - 1930
1913 saw the company's first offshore venture; Timken-David Brown was established in the United States to manufacture David Brown worm gear units there. The First World War saw the staff at the Park Works increase five fold to 1000 between 1914 and 1918 with the firm engaged in a variety of projects for the war effort. This included main propulsion units for warships, gun training and elevating gearboxes and bombs for trench mortars. With the result that by 1921 David Brown was the largest worm gear manufacturer in the world.
1930 - 1935
The David Brown Gear Company Ltd acquired P.R. Jackson Ltd, who specialised in heavy gear manufacture and general steel founding in 1930. Percy Brown died in 1931, leaving the 28 year old David Brown as Managing Director under his father Frank who retained the chairmanship. Two years later 'The Radicon' (from worm radiation, conduction and convection) gear sets were introduced, their design taking special pains to reduce operating temperatures through attention to detail in dissipating heat. Overseas, links were established with Richardson Gears (Pty) Ltd of Footscray, Victoria, Australia in 1934. In 1935 David Brown Ltd patented the Merritt-Brown controlled differential steering system for tank transmissions, a key technology in tracklaying vehicles and one still much used today.
1935 – 1940
The first Ferguson-Brown tractor was built in 1936, opening a new era in agriculture and starting a product rage that was to be of great importance to the company over the next 48 years. The 'Rearmament' period saw David Brown Ltd take on an increasing list of military orders across a diverse range of fields; from primary reduction and valve gear sets for aero engines, to tank transmissions, ordnance and marine gearboxes, all in addition to their own commercial work which was ever widening, by now turning to small engines. Production of the David Brown VAK-1 tractor commenced in 1939 with a new plant at Meltham.
1940 - 47 (UK)
The Halifax Coup and events stemming from Britain's Armistice with Germany saw a downturn in David Brown Ltd's fortunes. The German occupation from late 1942 saw the order book refilled, but little enthusiasm on the part of staff and workers. The Park Works were attacked by the US Navy on several occasions, causing a great deal of superficial damage that was used to justify a general downturn in output.
1940 - 1947 (Overseas)
While David Brown himself had intended to remain in the United Kingdom for the duration, he was obliged to leave for Canada in 1944. Once free he turned his considerable attention to the company's interests in allied and neutral nations. With the capitol accumulated though royalties and revenue aborad since 1940, the North American operations were re-organised as 'David Brown Engineering' (DBE) and continued to serve America's war effort. In Australia DB's holdings in Richardson Gears grew to 45% and with personal assistance from Brown and aid from DBE, the company perfected the 'C-type' transmission (for the Chauvel tank), finalised the design for the 'D-type' (Monash). Returning to Britain in 1947, these healthy subsidiaries were invaluable in repairing the fortunes of David Brown Ltd. David Brown received a Knighthood for his wartme efforts in the New Year's list of 1948.
1947 - 1950
With the return of Churchill's Government, much was asked of David Brown Ltd, but the challenges of peace found the Park Works at a low ebb and in dire need of revitalisation. Non-ferrous drives for small minesweepers and the resumption of tractor production were the two most important efforts of the early post war years. Overseas Precision Equipment (Pty) Ltd of Benoni, Transvaal was acquired in 1949, and David Brown – India was set up in the same year. Other acquisitions in the UK included Aston Martin, purchased privately by Sir David as a 'hobby.'
1950-1955
Sir David Brown revamped the company as 'The David Brown Group' and added 'Lagonda' to his 'racing stable' in 1950. The coachbuilder 'Tickfords' was bought the next year and the three car businesses were amalgamated into Aston Martin Lagonda at Tickfords premises in Newport Pagnell. Meanwhile David Brown designed and manufactured the transmission for Ransom's 'Bullock' bulldozer, the same drive line also served Foster's competing bulldozer the 'F-10.' The introduction of a 'high speed' diesel engine and already high demand for David Brown tractors saw the firm absorb the 'Charles Roberts' works at Horbury Junction which introduced David Brown to the railway field and open a sales service operation in St Petersburg as David Brown - Russia. Overseas Precision Equipment was renamed David Brown – South Africa in 1954, the same year as an interest in the Vosper-Thornycroft-White shipyard was purchased.
1955 - 1960
The old firm of 'Harrison, McGregor and Guest Ltd.' of Leigh, Lancashire joined the David Brown family in 1955, bring with it the well established 'Albion' range of agricultural machinery. David Brown also gained the controlling interest in 'Sonnerdale Richardson David Brown (Pty) Ltd' and renamed the company David Brown – Australia in 1956 after 22 years of association. David Brown – India started producing transmissions for the IRB (indian Railways Board) LDS-1 class locomotive, designed at Horbury. The 60D tractor was released in 1957, along with the DB-3 motorcar from Aston Martin – Lagonda Ltd. In 1959 the DB-4 racing car won LeMans for the first time.
1960 - 1970
Work on naval propulsion systems through the previous decade saw David Brown in the UK, India and Australia gain a significant share of those countries naval orders, soon followed by several other nations. John Fowler & Co of Leeds merged with David Brown Ltd in 1962, their 'Marshall' range of wheeled and tracked tractors and the David Brown line of tractors and agricultural machinery, being amalgamated over the next decade, by the late 60's 4 out of every 5 DB Tractors was for export. David Brown entered into a partnership with General Metropolitan Electric and John Brown (Clydebank), to produce a combined standardised range of electrical motor/generator, gearbox and turbine (gas, steam and hydro) sets in 1964. 1965 saw David Brown – Russia establishing an assembly and full service-centre in Vladivostok. David Brown – South Africa was renamed David Brown – Africa and expanded to undertake defence work for the South African government. The one millionth Radicon Gearbox was delivered in 1968 and a new tractor assembly hall was erected at Meltham in 1969 replacing all existing tractor production in other plants.
1970 - 1980
David Brown had entered into an agreement with Tenneco Inc. of Houston, Texas concerning Tanneco's subsidiary J.I. Case Co of Racine, Wisconsin, in 1971 to cooperate in jointly building and marketing a range of tractors and machinery internationally. This was most successful for both parties. Unfortunately the David Brown Group had grown beyond the means of one man to adequately control, and the firm's management was restructured into a more formal arrangement, Sir David retained chairmanship of the Board but relinquished the managing Directorship and for the first time a Brown was not in day to day control of David Brown. To realign themselves with their core engineering business, the new board sold off Aston Martin-Lagonda Company Developments Ltd in 1972. In 1975 the Horbury works was spun off as 'Roberts Rail Systems' and floated on the London Stock Market.
Triumph Motors purchased all David Brown's tractor interests in 1978 and the company withdrew from 'Metro-Brown' a year later.
1980 - 1990
By 1982, some XX years after providing the gearbox for the first major warship to use gas turbine propulsion (XXX), David Brown reduction and combination units were in service or on order for the warships of 9 Navies. David Brown transmission units reliably propelled the majority of the Royal Navy fleet sent to resecure the Falkland Islands. Sir David Brown retired in 1983 but the family retained its controlling interest in the group. The Group continued to shrink over the rest of the decade, the
last agricultural connection was severed when the Leigh factory was closed in 1984 and DB-Brazil was sold off in the same year. 1986 saw DB-Africa sell off its materials testing business, DB-Russia was sold in 1987 and DB-India departed in 1988. In 1990 the Brown family sold their control of the Group to the current management with the exception of plants in the Southern Hemisphere, which continued trading as David Brown (Holdings) Ltd.
1990 - 1995
Following Sir David's death in 1993, the company was successfully floated on the London Stock Exchange bringing to an end 133 years of private ownership. Buoyed by new confidence and capitol, David Brown regained a controlling interest in IKB (formerly David Brown – India), fought off acquisition by the Eaton Corporation and gained a minority stake in their old American partners Timken. David Brown Holdings rejoined the family in 1995.
---
Taken from the David Brown PLC. Website
---